Ketchikan local Rudy Pankow shines in a new movie released on April 29 titled "Chocolate Lizards," co-starring Thomas Haden Church, Bruce Dern and Carrie-Anne Moss.
The  comedy-drama film was directed by Mark Lambert Bristol and was based on a 1999 novel of the same name by Cole Thompson.
The feel-good film focuses on the relationship between the irrepressible, nearly bankrupt oil driller Merle Lusky, played by Haden Church, and struggling actor Erwin Vandeveer, played by Pankow.
The film's first scene shows Pankow's character arriving at the set of his first big movie, bursting with excitement about his big opportunity. His shot at fame and success fails sadly and hilariously in a mishap as the first scene barely begins filming when Vandeveer makes a simple mistake.
Vandeveer then starts driving back home, distraught. His sadness is intensified by his thoughts of having failed his father, who was disappointed when Vandeveer dropped out of Harvard, where his father works as a professor.
Adding to Vandeveer's misfortune, his car breaks down near the tiny town of Buffalo Gap, Texas where he is taken under the wing of roughneck Lusky.
An apt summary at www.imdb.com reads, "The two set off on a crazy fun-filled adventure to outwit the bank, the sheriff, and a corrupt oil company in a frantic race to hit pay dirt before Merle's dreams are foreclosed."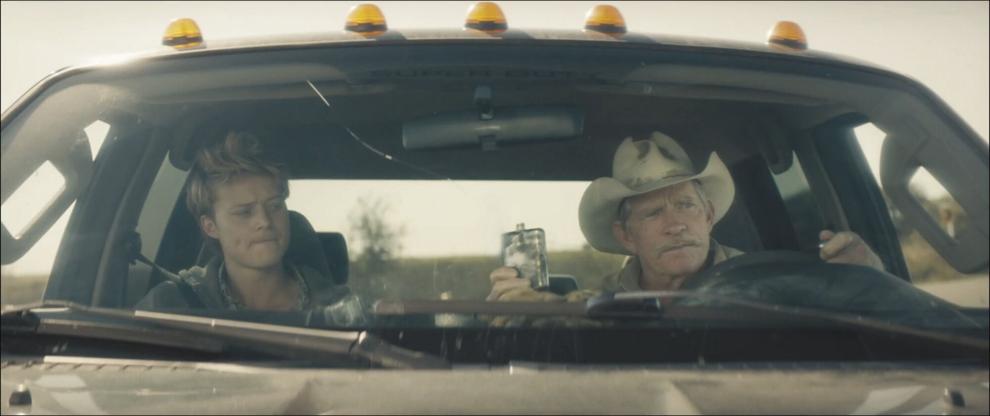 The movie ends on a sweet, tear-jerking note with the well-rounded characters having worked together to build their relationships and having helped each other to conquer their troubles.
The movie premiered at the Dallas International Film Festival on April 29 and won the Audience Award for the Best Narrative Feature.
Pankow also is known for his role as JJ Maybank in the Netflix series "Outer Banks," and as Young Sam in the film "Uncharted."
During a telephone interview with the Daily News on May 11, Pankow spoke about his experience as a part of the cast, and about his career as a professional actor since moving away from Ketchikan in 2016.
Pankow said that while growing up in Ketchikan he was inspired by many people and events.
He said that watching his older brother perform on stage inspired him at an early age.
"Oh man, that looks like kind of a fun time, I'm kind of jealous of that," he recalled thinking.
Pankow added, "I kind of started kind of doing my own little dibble dabble in the performing arts with doing the 'Nutcracker' or a couple of musical theater programs."
He also recalled taking a Shakespeare class in Ketchikan as enjoyable as well.
"I think, to be honest, there was this feeling of wanting to find out who I was and finding different versions and people to carry myself as, and then I realized, 'Oh, I'm just beginning to identify who I really am,' and it inspired me to start wondering and thinking 'Oh, am I actually good at doing that?' and I really didn't know until I moved to L.A., and that's when I fell in love with the actual craft and training of acting," he said.
Pankow described "Chocolate Lizards" as a movie about, "Who are you, and who are you really when no one's around. Erwin goes through a little bit of a transformational period in his life when his car breaks down in Texas, and meets this man that I think challenges his — actually he meets several people I think who challenge asking himself that question of what your identity is and how you find that."
He added that the movie also is about helping people out, and offers a sense of fate in that the characters seemed destined to meet.
"There's a reason why you showed up into my life right now," he noted as a theme in the movie.
A challenge that Pankow said he faced while working on "Chocolate Lizards" was "just wanting to tell the story in a correct tone and correct way when, you know, there's just so much to the story that you need to find the highs and lows."
He said that he worked with director Bristol and fellow actors Haden Church and Moss on perfecting their approach to creating that tone.
Pankow said he was able to connect with his character's excitement and nervousness in the film's opening scene.
He said it struck him like, "Oh wow, I've been here before,' and very much so the opening scene I very much related to driving a crappy car to a set and just kind of taking a moment to let it sink in and just let it sink in and be cool about it, you know? You don't want to reveal your nerves and there's a lot that goes into the first opening scene that really did happen my first time on a movie set."
Pankow spoke of the rewarding aspects of working as a professional actor.
"Meeting people and hearing their stories a bit, I think, is really fun. Honestly, kind of what I said — finding the highs and lows and doing the work and finding the rhythm of a scene. I love doing that."
He added that really the best aspect of his career is "hearing everyone else's stories and then bringing a brand-new story to life from hearing those stories."
Pankow said that he has been honing his skills with improvisational and stage training over the years, as well as scene studies while onstage. Voice classes also are something he currently is involved with as well, he said.
"You've got to keep training," he said. "No matter where you're at. I say you've got to keep training on something."
When asked what advice he might have for Ketchikan youths who also might be feeling drawn to theater, Pankow said he'd ask them a few questions.
"What is your reason for doing it — for being inspired?" he said. "Do you have a reason and what is that? I would love to ask a kid that in Ketchikan. What is your reason to act — why do you want to do it?"
He added that he also would advise, "You rehearse to listen as much as you rehearse your lines as well as movement. I think that would unlock a lot in young performers and young actors, if you rehearse your listening skills, you're hearing the other person's lines just as much as saying yours."
When asked if people he has worked with in different areas of the country and on different sets seem surprised or curious about his upbringing in Alaska, he said that the reactions vary. In Los Angeles, people are apt to ask jokingly if he took a dogsled to school. In Texas, the reactions seemed to be humorously competitive.
"Oh, you're from a big state, too?" Pankow recalled hearing a few times from Texans.
Speaking of telling people about his Alaska roots, Pankow said, "It is a fun ice breaker."
Pankow said that he is very hopeful that "Chocolate Lizards" will make it to the theater in Ketchikan, but isn't yet sure if it will.
"If not, keep your eyes out on those streamer platforms," he advised.
He finished the phone call by expressing his gratitude to his mother and father, Penny Pedersen and Andy Pankow.
Pankow also gave a shout out to First City Players, and said, "thank you to everything they do in that community."
He expressed appreciation for the music community in Ketchikan as well, and for all of the people in town that support the arts.
Of "Chocolate Lizards," he said that, "I really hope that everyone has an opportunity to watch it and enjoys it — laughs, cries, and goes through a range of emotions."