A new exhibit of metal art titled "Playing With Fire" opened in April at The Commons Gallery, featuring unique works by University of Alaska Southeast Ketchikan Campus metal arts instructor Angie Goffredi and the students of her UAS Metal Arts class.
 The exhibit was created in collaboration with the Ketchikan Area Arts and Humanities Council.
In a description of the exhibit written by Goffredi at www.ketchikanarts.org, she notes, "when people think of welding, often they think of building strong steel structures like buildings or ships, not dragons or angels.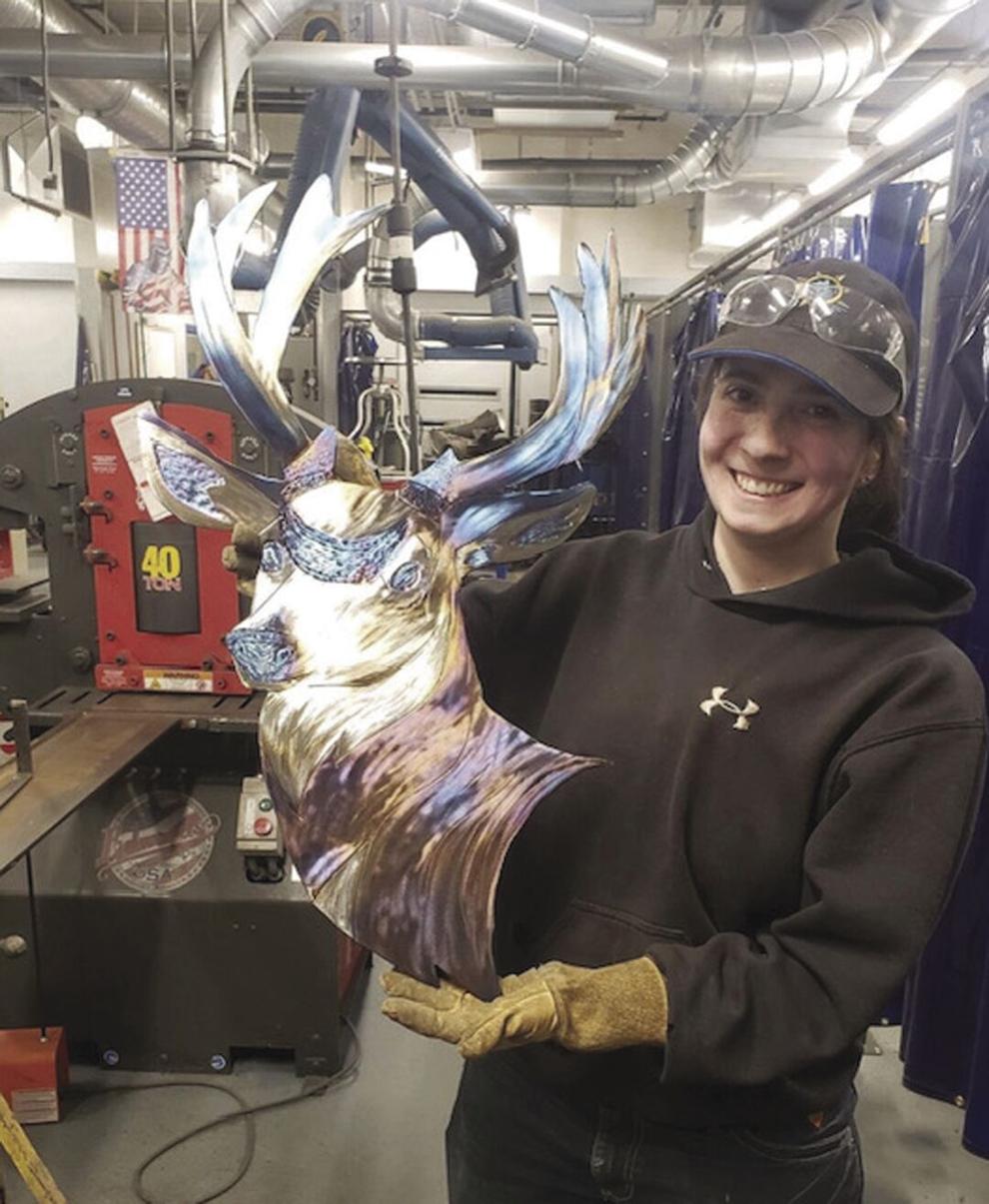 "I have taken the tools of my trade and found new ways to design, build, and create. Steel is my canvas, a plasma cutter is my pencil, and a torch is my paintbrush," she added.
She explained that while taking her class, students learn how to use angle grinders, plasma cutters, propane torches and Dremel rotary tools safely as they create their art pieces.
Many of the pieces in The Commons exhibit shine with subtle rainbows of color. Goffredi explained that when bare steel is heated with a torch, a chemical reaction that's initiated between iron and oxygen creates a thin oxide layer on the metal. As the temperature rises, that layer changes color through a spectrum of silver, straw, gold, copper, purple, dark blue, light blue, pearlescent green-blue and pearlescent silver.
Colors can be layered by using a grinding disc as a textured eraser to bring the plate back to the base silver color that the artist can color once again. Grinding discs and engraving tools can also be used to "provide texture and flow to an art piece," Goffredi further explained.
During a phone call with the Daily News on Wednesday, Goffredi talked about how the exhibit came about, and the process of teaching her classes.
Goffredi said that former Arts Council program director Katy Posey contacted her in 2019 about creating a metal arts exhibit. The idea was delayed, however, when the COVID-19 pandemic postponed the project.
This semester, Posey was able to take the class, and learned to create her own metal art. Her piece, "The Great Wave" is featured in the exhibit.
Goffredi has several pieces of her own artwork in the show, including the first piece of art she ever made, titled "Dad's Steelhead." She said that she'd made it for her late father, who was an avid fly fisherman.
She also has two pieces that portray mushrooms, and Goffredi explained that she is an avid mushroom hunter. To create those pieces, she experimented with different techniques than she'd used previously.
Goffredi said that she had about a dozen students in the class.
When asked what she hopes that students learn in those classes, Goffredi said, "a little bit of everything, really."
She spoke about her own introduction to metal art.
"My background is in the trades, and welding, specifically," she said. "When I first started here at the university as an instructor, there was a metal arts class already."
She was intrigued by the art pieces that were created in those classes.
"I had never seen anything like the way that you can take steel and make it turn different colors, how you can use your basic shop tools as paintbrushes, almost," she said.
"I've had people tell me it feels like watercolor painting," she added.
She said that she has really felt proud that "a lot of our students in metal art eventually decide that with the confidence that they have built around using standard shop tools like an angle grinder or a plasma cutter — doing basic layout with the punches and compasses and things like that — to make a piece of art, they then feel more comfortable in their ability to actually take a welding class."
Goffredi said that her metal arts class is an excellent way for people "to try out, to see that the trades and metal working in particular — they're not limited to people who have been welding for years, or who have a ton of money and who are able to afford things like bronze casting."
The metal arts class also shows people how accessible metal arts can be, with a low cost barrier and with the ease of making artwork in their own homes.
A challenge that Goffredi said she enjoys while teaching metal arts is that a wide variety of students enroll. Some students have years of experience using tools and welding, and some have never picked up a grinder or a torch.
 Doran Grossman-Orr was a student in her class, she said, and she described him as an "extraordinarily creative, ambitious highly skilled artist." She said he's had extensive experience in woodworking, and also has taken three semesters of welding. His piece in the show is a melding of woodworking and metal work titled "Cybearg."
In the same class was Posey, who told Goffredi that she'd been watching the metalwork classes for a long time, and was eager to learn, but had no experience at all.
Student art that also is included in the show was created by Jensen Willingham, Julia Sapelkina and Dan Kistner.
Practicing flexibility as an instructor has really been important, Goffredi said.
The classes were held from 9 a.m. to 1 p.m. on Saturdays for seven weeks, and Goffredi said everyone had to really focus and work hard to finish their pieces by the end of class.
Goffredi said that her favorite part of teaching the classes has been "seeing people gain confidence in their abilities, ... seeing people realize that 'Oh, I can do this.'"
She further explained, "Seeing people think about an idea, whether or not they meant for it to turn out how it does, whatever way the outcome is, it turns out to be something awesome, just to watch people be like, 'Hey, I made that!' That's my favorite part."
Goffredi added, "It doesn't even feel like I'm working. I'm getting paid to have fun. That's how it feels to me."
The metal arts class is planned to be held again in the fall, Goffredi said, and people aged 16 and older of all experience levels are welcome to sign up.  All tools and materials are provided to students.
The exhibit is set to be available for viewing through July 7 at The Commons, which also houses  Pilothouse Coffee at 2106 Tongass Ave.