On Tuesday morning, Three Bears Alaska President and CEO David Weisz and Vice-President Paul Sonnenberg stood at the front of the new Three Bears store in Saxman, preparing inventory for the store's grand opening at 11 a.m. Wednesday. Weisz and Sonnenberg tore plastic packaging off of boxes full of M&M baggies and busted out single-serve sleeves of almonds to fill empty checkout aisle shelves.
Weisz, Sonnenberg and a team of Three Bears employees out of the Alaska grocery chain's Wasilla headquarters have spent more than a week in Ketchikan ahead of the company's store opening inside the 31,860-square-foot warehouse at the Saxman Seaport. On March 15, the Saxman City Council approved a lease of a portion of the seaport to Three Bears Inc. for store operations with a term of up to 99 years.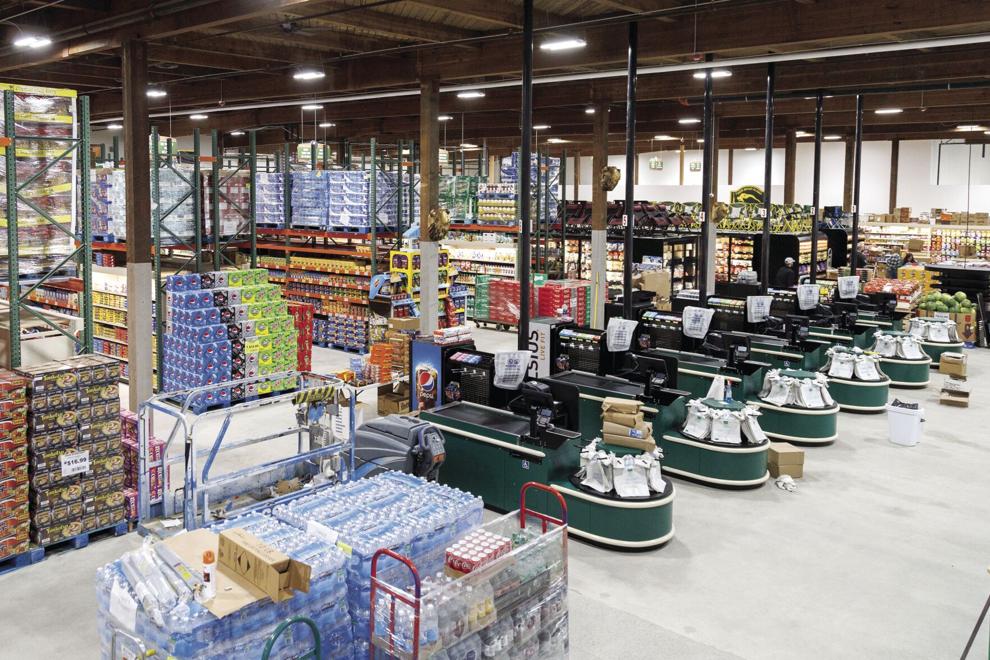 About 50 people worked in small teams throughout the store Tuesday to finish tagging prices on the tens of thousands of different types of items that fill the store. For the past three weeks, about 30 people have worked to fill the supermarket's shelves.
About 33 Ketchikan employees are starting out with Three Bears, according to Weisz and Sonnenberg. Weisz told the Daily News during a visit to the store on Tuesday that 33 people is "not enough employees"; the store would be fully staffed with about 60 people working.
Following a ribbon cutting at the store at 11 a.m. Wednesday, the Three Bears store in Saxman will be open from 7 a.m. until 10 p.m. each day.
Chris Mathiews, a 48-year-old from Texas, has been focused on setting up the store since he moved to Ketchikan in October to work as the Three Bears store manager. Sabrina Smith, a 35-year-old from Coffman Cove who has lived in Ketchikan for about seven years, is the assistant manager and is leading the hiring process. Smith told the Daily News on Tuesday that she has brought on "all kinds of people" and is "still looking for a lot more."
An ACE Hardware store is opening in the same building and will be operated by Three Bears Alaska. Lifetime Ketchikan resident Robert Pickrell, who is 45, will be the manager for the ACE franchise.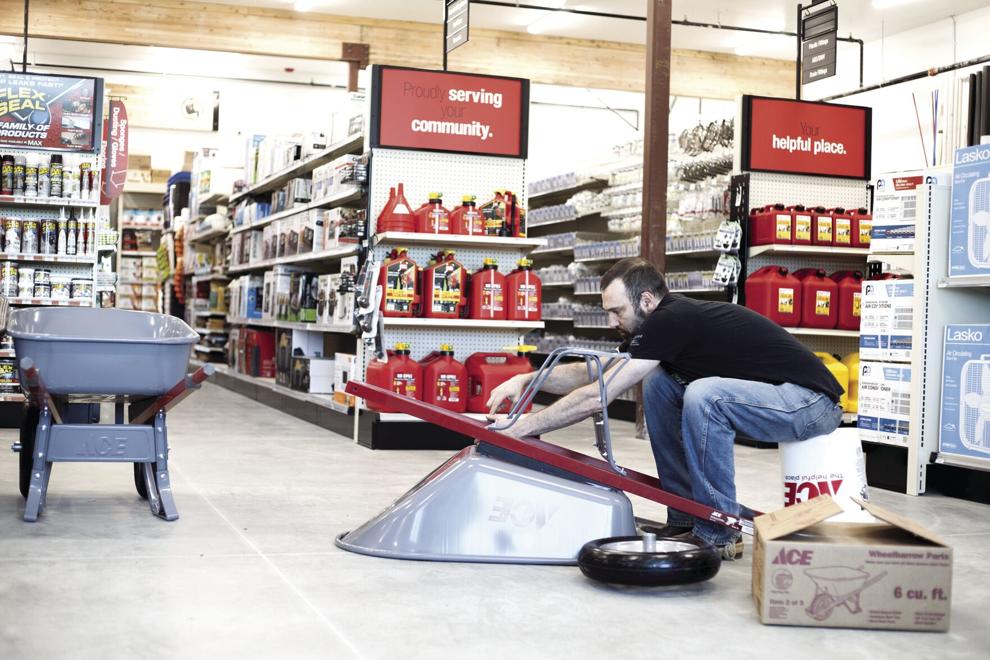 The Three Bears store will also contain an outpost for outdoor recreation equipment, including marine and fishing gear such as life jackets, fishing poles, lures and line, camping gear such as tents, pads, cook stoves and propane, hunting gear, firearms and ammunition.
Three Bears will sell crab pots, Big Chief smokers and a range of LEM brand food processing equipment such as vacuum sealers, "Big Bite" meat grinders and "Mighty Bite" meat slicers. The hunting-fishing-camping "outpost" will sell accessories for ATVs, including multiple brackets that can mount guns or saw boots on four-wheelers.
Weisz said that the Three Bears is opening without its liquor license, to start. Weisz anticipates that a liquor store connected to the supermarket will open by June 15 once the Alaska Beverage Control Board meets at the end of this month and reviews Three Bears' license application for the Saxman store.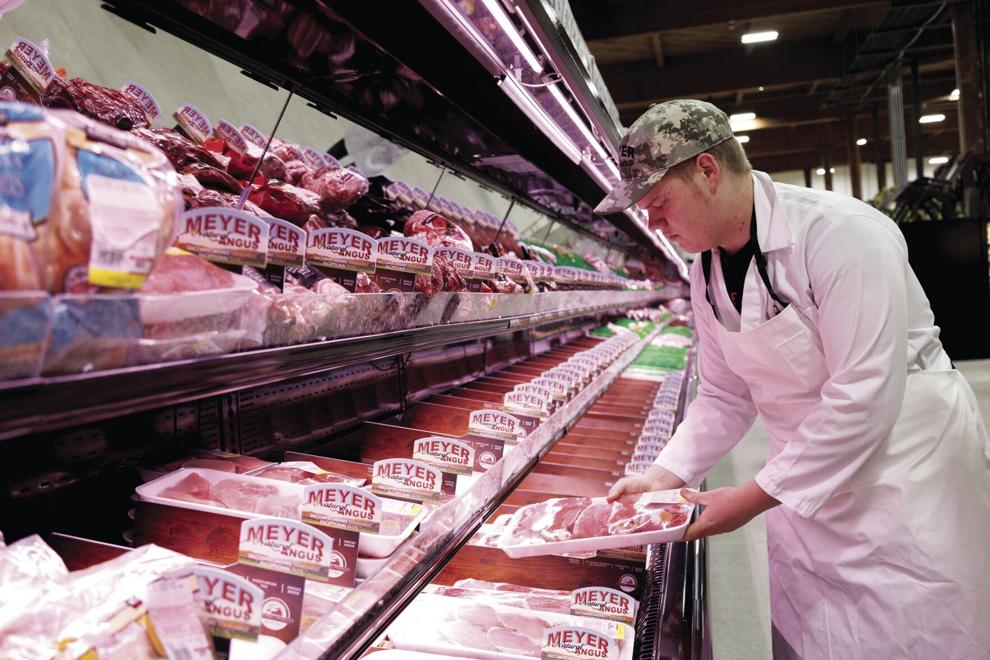 Weisz and Sonnenberg told the Daily News that the Three Bears store will carry 50,000-60,000 products between its sporting goods department, its general supermarket and the ACE hardware, and that the core of that inventory is made up of about 25,000-35,000 products available in the supermarket.
The inventory includes kitchen wares, paper products, toiletries, over-the-counter medications, diapers, underwear, pet food, office supplies and cleaning products.
Value items include 30-roll packs of Kirkland brand 2-ply toilet paper and jugs of Arm & Hammer laundry detergent. 12-ounce bags of Ravens Brew coffee beans are four dollars less expensive than 12-ounce bags of Starbucks Coffee beans.
Grocery aisles are stuffed with cereal, snacks, candy, bread, cakes, cheese, milk, yogurt, eggs, condiments, lunch meats, soup, instant noodles, ice cream, frozen meals, large cans of fruits and vegetables, bulk nuts, beans, rice and a moderate selection of fresh produce such as apples, carrots, potatoes, bagged salad and specialty products such as kimchi. Some shelves are dedicated to Asian food ingredients, and some hold Mexican food ingredients.
Weisz said that Three Bears has "everything" available in the meat department, including king crab, ahi tuna and full racks of pork ribs. 15-pound turkeys from Jennie-O are available, along with packs of four chicken breasts that weigh about 5 pounds together.
The store contains a meat cutting room, deli counter, meat cooler and freezer cases that stretch almost the entire width of the store as well as a hot case for prepared meats such as rotisserie chicken. Weisz said that Three Bears will cook the same type of rotisserie chickens that Costco cooks.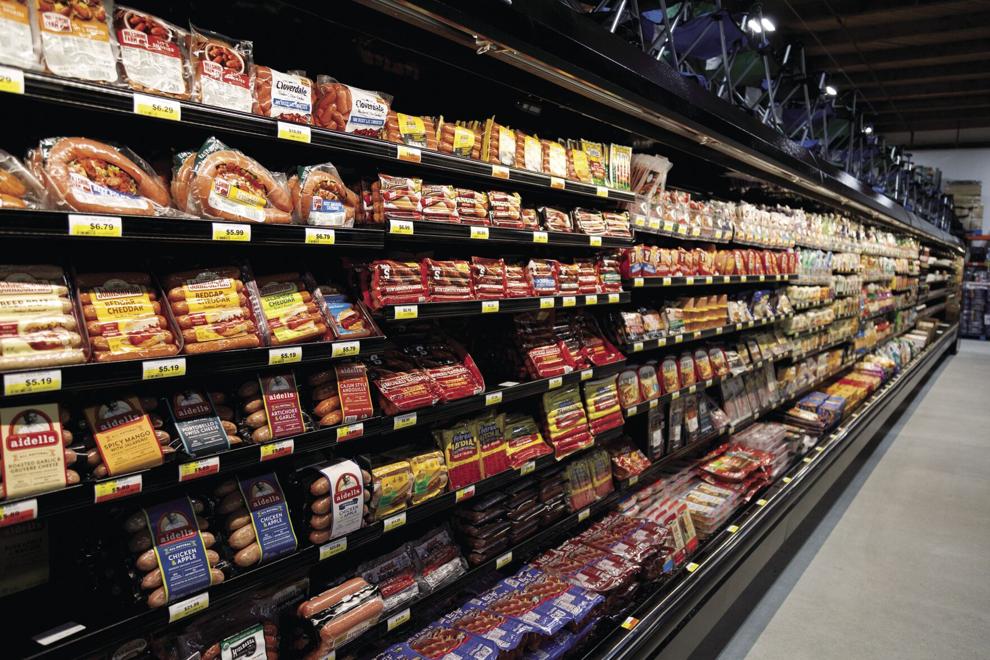 Sonnenberg told the Daily News that twice-weekly Samson Tug & Barge shipments to Ketchikan will deliver Three Bears inventory. Three Bears purchases food from SuperValu, a grocery wholesaler and subsidiary of United Natural Foods Inc. of Providence, Rhode Island, as well as local distributors for brands such as Coca-Cola and Pepsi.
Three Bears also purchases many products such as bulk food from the Costco Business Center, Costco's commercial wholesaling arm.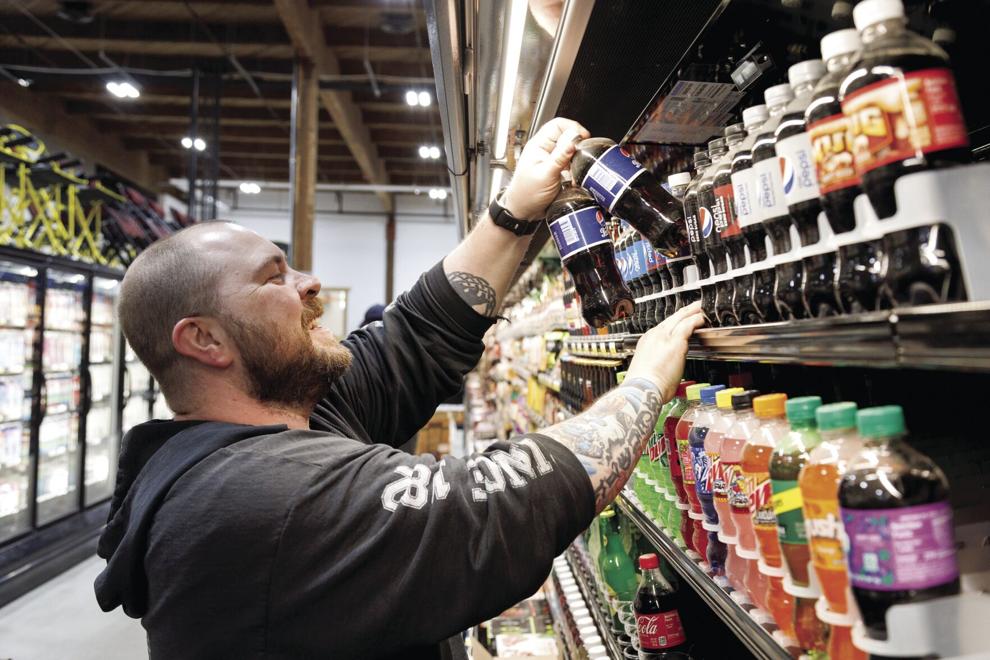 Weisz and Sonnenberg said that Three Bears develops its stores from three layout templates, and that the company selected its largest store type ("mini-warehouse") for Saxman. The design features steel beams throughout the store that can hold tons of spare inventory above grocery shelves.
"We wanted to do the steel here because of shipping delays," Weisz said. "So, on key items once we work into the cycle, we'll be able to always have product on hand and you won't find it out of stock."
The store contains a dedicated warehouse space and a large walk-in freezer for additional storage.
"We're in the business of selling product, and you have to have the product," Weisz said.
Weisz said that his father started Three Bears when he bought a small store in Tok, Alaska in 1980 after working for Carrs, an Anchorage-based grocery chain.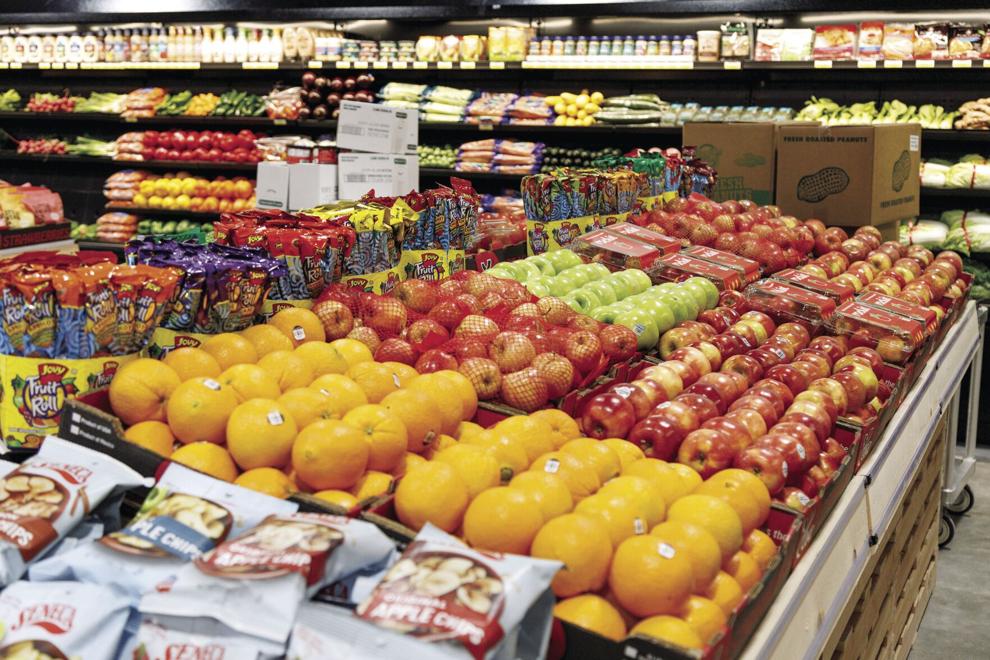 "We just had one store for a very long time and then we grew to a second, grew to a third ... we just kind of slowly grew," Weisz said. "In the last 15 years I've been pretty aggressive with the growth. My dad retired, we bought him out, I've been extremely aggressive with the growth and we've expanded the fuel station business that we're into, we're up to about 16 or 17 fuel stations now and we have three more coming on this year."
Three Bears currently operates 22 grocery stores in Alaska, and one in Butte, Montana. The company is building new stores this year in North Pole and Cooper Landing and is working on acquiring a few other stores.
There Bears' initial interest in pursuing a retail grocery store at Saxman Seaport was made public in October 2021, when the Saxman City Council held an executive session to discuss the topic that had been the focus of preliminary talks between Three Bears, the City of Saxman, Cape Fox Corp. and the Organized Village of Saxman.
In October 2022, the Saxman City Council approved a resolution in support of the project, and in December, Three Bears took over management of the South Tongass Service gas station and convenience store in Saxman from Southeast Stevedoring.
In March, the Saxman City Council approved a lease agreement that authorizes Three Bears to operate its new seaport store with an initial term of 11 years, and a provision allowing Three Bears the option of up to eight additional terms of 11 years each.
With the lease, Three Bears commits an initial payment of $400,000 to the City of Saxman (in addition to $100,000 that Three Bears already paid under a prior access agreement with Saxman). Going forward, lease payments will be linked to the amount of sales taxes generated by Three Bears' operations.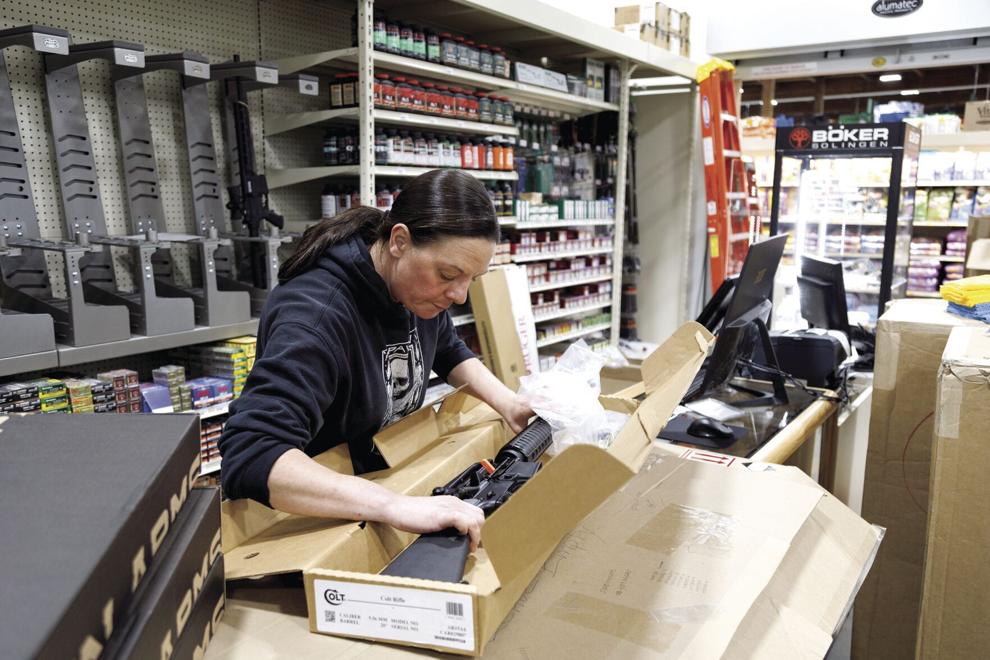 If the sales tax revenue during a given fiscal year falls below $375,000, Three Bears will make an "Additional Rent payment in the amount required for the revenues to the City to equal the Revenue Floor ($375,000)," the lease states. For each additional 11-year time option period, the revenue floor will increase by 10%, according to the lease.